USA
"Knee Scooter rental near me" - How to find the best knee scooter rental near you and have it delivered?

When you search for Knee scooter rental near me you will probably end up finding CloudofGoods.com to have one of our friendly local rental delivery partners deliver a knee scooter to you.
Whether you need a comfortable knee scooter due to a broken foot, foot surgery or a disability to walk long distances, we got you covered! Cloud of Goods is now available in most cities around the United States to serve your knee scooter rental needs.

Knee scooter rental available cities;

San Francisco | Orlando | Anaheim | Las Vegas | Tampa | Los Angeles |
San Jose | Pigeon Forge | San Diego |New York | Washington, D.C | Atlantic City |
Honolulu | Lahaina | Seattle | San Antonio | Phoenix | Atlanta

Simply make a reservation online and leave the rest to us to find you the best knee scooter rental through our local partner network and have your knee walker rental delivered right to you! We can deliver to your residence, hospital, hotel, attraction, campsite, Airbnb, vacation home, theme park or the airport and wherever you are,
Explore the available Scooter models on Cloud of Goods
Submit a knee scooter booking request online (Our equipment rental procedure is pretty identical to how you request an Uber ride. Once you submit the request, we will do our best to find a local partner who can bring you the perfect knee scooter for your needs)
Once a local rental partner accepts the knee walker order, your order will be confirmed and we will be in touch with you to make the delivery arrangements. It's that simple!

Some of the popular brands that our local delivery partners carry are Elenker knee walker and Roscoe knee scooter with basket.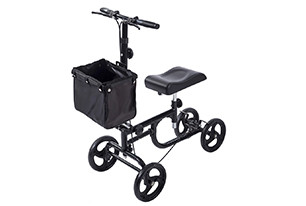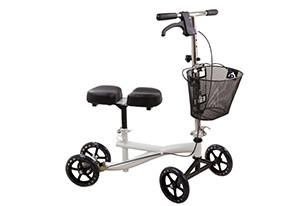 If you have the model preference, make sure to note that in the reservation notes, while we can't guarantee that particular brand or model, we will try our best to find it for you.
Attractive duration discounts and coupons available for multi-day or long term knee scooter rentals. Still need more help or got more questions, no worries, our 24x7x365 customer support team is ready to help you. Get in touch with us via the online chat available on the bottom right corner of the CloudofGoods.com website or send us an email to info@cloudofgoods.com or call us at 407-545-3103.
Let the Cloud of Goods knee scooter be your walking partner!