Orlando
Rent mobility scooters and wheelchairs at Universal Orlando Resort

How do I rent a scooter at Universal Orlando?
There are two ways to rent a mobility scooter when you visit Universal Orlando. One method is to rent from the park itself, and the other is to rent from a third party scooter rental vendor such as Cloud of Goods. Read on to learn about Universal Studios scooter rental. If you came here looking to rent, click here.
Method 1: Renting a scooter at the park itself (expensive)
As you can read on their official website, due to limited numbers, mobility scooter rentals(ECV) are on a first-come, first-served basis. This means you will have to reach the park pretty early in order to secure a mobility scooter. And the prices are above average when compared to average scooter rental pricing in Orlando. Universal Orlando Resort rents both wheelchairs and scooters (electronic convenience vehicles) to guests for use in the parks. Wheelchairs cost $12/day plus a $50 deposit. The mobility scooters cost $50/day plus a $50 deposit. That is quite expensive for an ECV rental.
Method 2: Renting a scooter from Cloud of Goods (cheaper)
Cloud of Goods can drop-off the scooter to the park entrance or to your hotel and pick it up when you are done using it. We offer competitive pricing and duration based discounts for all our scooter models. We have scooters that can support up to 400 lbs. This is a better option if you plan to use the mobility scooter(ECV) outside the park as well. No deposits are required. Click here to use this rental option.
---
---
How much does it cost to rent a mobility scooter at Universal Studios Orlando?
Universal Orlando Scooter Rental Prices

| Rental days | Universal price | Cloud of Goods price |
| --- | --- | --- |
| 1 | $50 | $40 |
| 2 | $100 | $50 |
| 3 | $150 | $64 |
| 4 | $200 | $86 |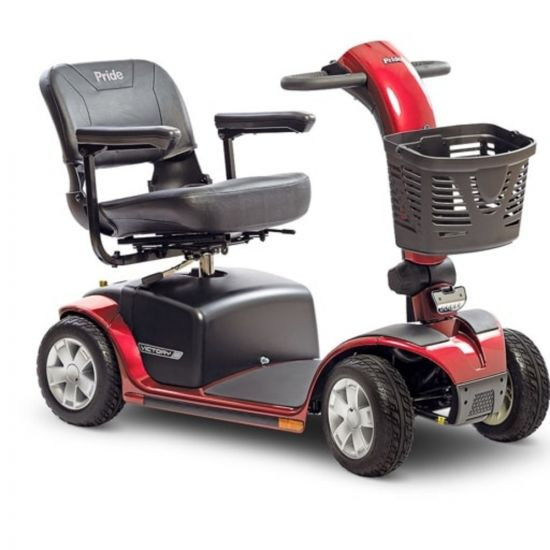 A scooter with a capacity up to 250lbs will cost $50 a day at Universal Studios Orlando. An additional deposit of $100 is required for Universal mobility scooter rental(wheelchairs require a$50 deposit). This is a pretty expensive purchase considering you cannot use this ECV scooter outside the park. These prices are from the official Universal Orlando website. You can also refer to the official renting guide for Universal attraction
If you rent from an outside vendor, the scooter will cost $25-$30 per day, and you can use it outside the Universal park. Universal Studios does not provide any discounts, but these vendors do. If you require a transportable & portable scooter, for a cheaper price, then you have to look up an external vendor like Cloud of Goods.
External vendors like Cloud of Goods prices $40 a day for mobility scooter rental, $50 for two, $64 for three & $86 for four days. They carry multiple scooter models(ECVs) to deliver to Universal Studios Orlando. Some examples are lightweight mobility scooters & heavy duty mobility scooters. Prices include delivery fees. As you can see we offer steep discounts when the number of days is more than one. If you need a scooter rental when you visit the park, you can rent one from Cloud of Goods. You can see the exact cost by entering the destination and dates. While you can rent a scooter from Universal Studios itself, it is usually cheaper to do so from us.
Like always you can rent the scooter(ECV) online or by calling (407) 545-3103. On our website, you can get an estimate on renting Universal Studios Orlando mobility scooters(handicap scooters).
Universal Orlando Resort (Universal Studios Orlando)
6000 Universal Blvd, Orlando, FL 32819
Hours: 8 AM–12 AM.
What type of Mobility scooters can I rent at Universal Orlando Resort?
You can rent a mobility scooter, electric wheelchair, or electronic convenience vehicle(ECV) to use at Universal Studios. All you need to do is make a reservation either online or by telephone and then the scooter will be delivered to your hotel, resort, or residence. Cloud of Goods offers four scooter rentals to choose from. They are transportable and will fit in your car. A scooter that folds-up or easily disassembles and fits in the trunk of your car or a rental taxi will be greatly appreciated if you want to dash off for a shopping trip at a mall.
Our Lightweight mobility scooter rental is easy-to-disassemble. This powered scooter provides stability on outdoor terrain. It has a weight capacity of 200 lbs and a driving range of 8 miles.
The heavy-duty mobility scooter rental is quite comfortable. This scooter can be used as a heavy-duty travel scooter. It is still very portable. Perfect fit for everyday use with the longest range. This scooter model has a weight capacity of 350 lbs and a driving range of 12 miles.
The extra-large heavy-duty mobility scooter rental is the perfect fit for a high-performance operation with a sleek, sporty design. It comes with an LED battery meter. This scooter rental has a weight capacity of 400 lbs and a driving range of 15.5 miles.
The electric kick scooter rental is designed for the daily use of commuters and other adults. Equipped with Honeycomb never-flat airless rubber tires.
Can I rent wheelchairs at Universal Studios Orlando?
Yes, you can. Guests can rent wheelchairs at the entrance of Universal Studios Florida and Universal's Islands of Adventure. They are located on the left side of each park's entrance. Universal Studios wheelchair rentals are also available in the Rotunda area of the parking area.
How much does it cost to rent a wheelchair at Universal Studios Orlando?
It costs $12 a day to rent a wheelchair in the Universal park. It also requires a $50 deposit that you can get back when you return the wheelchair on the same day. If you are looking for a cheaper wheelchair model that you can also take out of the park, check out this universal studios wheelchair rental.
What is an ECV scooter?
ECV stands for Electric Convenience Vehicle. ECV is also known as motorized wheelchairs, power wheelchair, and handicap scooter. These scooters are usually used by people who have difficulty with their mobility skills. ECV rentals are available at popular theme parks, like Disney and Universal Orlando.
Accessibility Information for Universal Orlando Resort.
For the official information, please refer to the official accessibility guide. With the exception of the Hogwarts Express, none of the attractions at Universal Orlando will accommodate Electric Convenience Vehicles (ECV). Since most of the rides can accommodate manual wheelchairs, you can transfer from your mobility scooter into a manual wheelchair that is provided at each attraction. If you need help to transfer into a manual wheelchair please get help from an Attractions Attendant. For more information please refer to guide for accessibility
Apart from Universal Studios Orlando scooter rental, we also provide Universal Orlando Wheelchair Rentals & Seaworld Orlando scooter rental. You can refer to those links to find out wheelchair rental prices and scooter rental prices for each of those locations.
If you would like to learn more about the park, please visit Visit Orlando.