Anaheim
Rent wheelchairs at Disneyland

Disneyland is a wheelchair-accessible park. If you need some help getting around Disneyland, you have two options. One is you can bring your own wheelchair. Or, If it is too much trouble to bring your own wheelchair with you, you can rent one. You can rent either at Disneyland or from a local wheelchair rental service(e.g Cloud of Goods). This article describes the pros and cons of both these methods and includes some Disneyland wheelchair tips.
You might want to consider renting a scooter, its more fun and takes no effort to navigate. But of course, scooters depend on battery so you will have to plan your route accordingly. If you're with a companion who can push a wheelchair, we'd recommend using a wheelchair rental instead. Not only are wheelchairs less expensive to rent, but they are also much more portable and does not rely on a battery.
A limited number of wheelchairs (manual and motorized) are available to rent Disneyland, but you can't reserve them in advance. To avoid any issues, it's best to arrive about 30 minutes before opening time, especially if it's a busy day.
Disneyland Wheelchair Rental Cost
Manual wheelchair rental costs $12.00 at Disneyland. Also, a Manual wheelchair requires a refundable deposit of $20.00. The guest must be 18 years old in order to rent it. On the plus side, the Disneyland wheelchair rental location is convenient, just outside the entrance. It's a good option if you can get around enough to get to the main entrance. And also, that relieves you from the trouble of taking it back to your hotel every evening.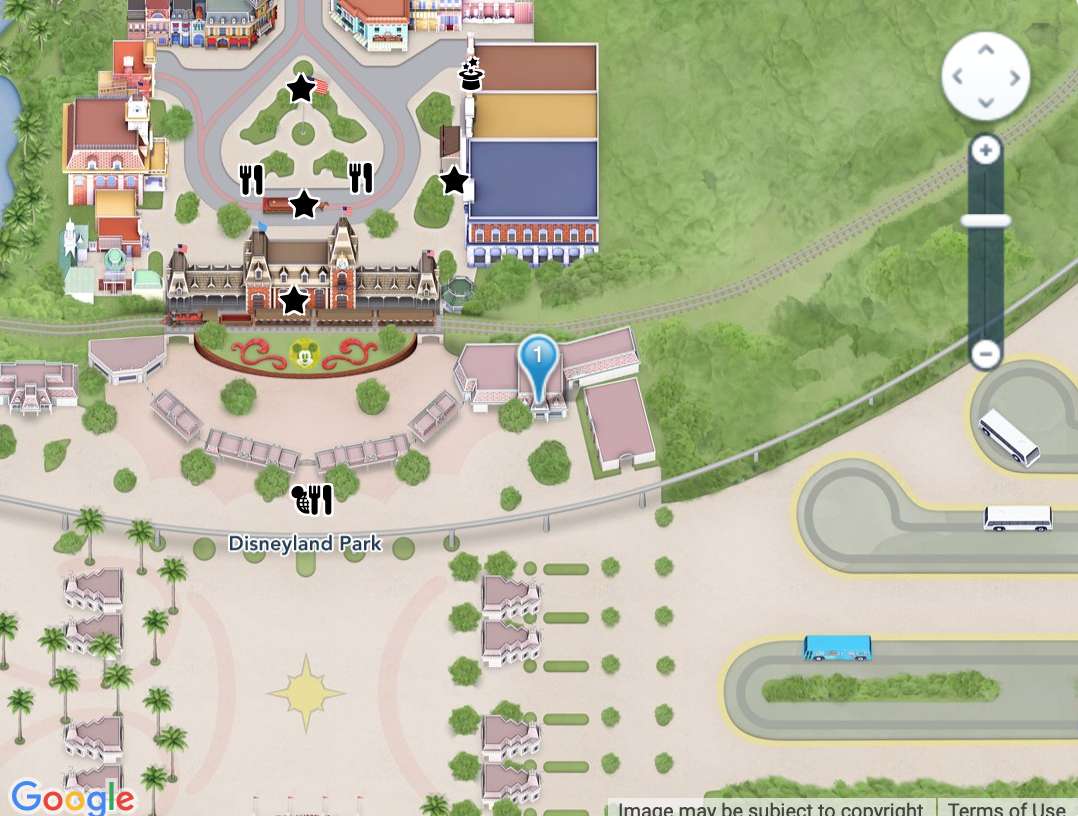 Disneyland wheelchair rental location is marked here , as "1"
Click here to see Current Disney rates and policies for rentals. Don't be alarmed when you get to there and find prices higher than stated on the website. The difference is a refundable deposit that you get back when you return it. You'll need a photo ID and to rent an ECV scooter, you must be at least 18 years old.
Do note that you must be 18 years of age to operate and a photo ID is required to rent a wheelchair. The maximum weight capacity of a manual wheelchair is 350 pounds(158 kg). The wheelchairs available are not designed to hold more than one person. Those are pretty much the rules you have to follow. If you want to learn more information here is the Disneyland wheelchair rental phone number : (407) 560-2547. You can also contact them via their website.
Also, note that Disneyland does have handicap parking. Parking for Guests with disabilities is available throughout the Disneyland Resort. Locations include the Mickey and Friends parking and the Toy Story parking area off Harbor Boulevard. However, A valid disability parking permit is required. You can read more about it here
Disneyland Wheelchair Rental Companies
On the surface, Disney's rates may look higher than other companies in the area. But, by the time you add insurance and delivery fees, the price differences will be minimal.
If you need your wheelchair most of the time during the day, a rental from an outside company maybe your best option. You can take them anywhere and use them any time of day you need to.
There are few things to consider and ask about when renting from an outside company.
What are the weight limits for the wheelchair models they have?
Will they deliver to your hotel and pick it up from there when you're done?
Do they support custom delivery requests like drop-off at the hotel and pick up at the park?
Do they have customer support available throughout the day?
What if it's stolen? What if it's damaged? Do they provide a Damage Waiver option?
A number of companies offer wheelchair rentals near Disneyland. Cloud of Goods is one of those companies.
Cloud of Goods delivers the wheelchair to Disneyland or nearby hotels
There are multiple wheelchair models to choose from
They offer a Damage Waiver, which covers accidental damages that may occur during normal use.
They have customer support available throughout the day.
Offers competitive pricing for wheelchair rentals.
Wheelchair, Stroller, & ECV Rentals at Disneyland. Delivered to you.
Apart from wheelchair rentals, Cloud of Goods offers scooter(mobility scooters/ECV) rentals and stroller rentals at Disneyland. They are a top rental provider in Anaheim with a wide variety of products delivered to you. Cloud of Goods is rated 5 stars on TripAdvisor and contains reviews about wheelchair rentals from our customers.
Those are the wheelchair tips we have for you today! If you are looking for a Disneyland scooter rental or a motorized wheelchair, have a look at cloudofgoods.com